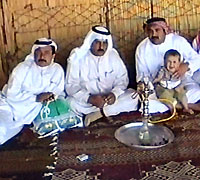 Iraqis: Wedding video captures revelers
U.S.: Target was safehouse

USA Today
Posted 5/23/2004 8:32 PM
Iraqis say that this video image shows guests at a wedding party which was later attacked by U.S. planes.

RAMADI, Iraq (AP) — A videotape obtained by Associated Press Television News captures a wedding party that survivors say U.S. planes later attacked, killing up to 45 people.

On Monday, the U.S. military showed photographs to support its own case that the target was a safehouse for foreign fighters

The U.S. military says its investigation of the attack, which took place early Wednesday about five miles from the Syrian border, will try to reconcile the two different sets of images.

The APTN videotape, obtained Sunday, shows a dozen white pickup trucks speeding through the desert, escorting a bridal car decorated with colorful ribbons. The bride wears a Western-style white bridal dress and veil. The camera captures her stepping out of the car but does not show a close-up. (Related video: Footage from wedding allegedly attacked by U.S.)

The dead included the cameraman, Yasser Shawkat Abdullah, hired to record the festivities, which ended Tuesday night before the planes struck.

Brig. Gen. Mark Kimmitt showed photographs of rifles, machine guns, foreign passports, bedding, syringes possibly for illegal drugs as well as other items that he said suggested the site was used by foreigners infiltrating from Syria. He U.S. troops took the photos.

"These are pictures that are somewhat inconsistent in my mind with a wedding party," Kimmitt said. "One could say, yes, it is true that out in the desert you need to have a rifle to protect yourself against Ali Baba but the necessity for rocket-propelled launchers, rocket launchers in the bottom, special machine guns may be a little much for Ali Baba out there."

The APTN videotape showed no weapons, although they are common among rural Iraqis.

"There was no evidence of a wedding: no decorations, no musical instruments found, no large quantities of food or leftover servings one would expect from a wedding celebration," Kimmitt said Saturday.

Video that APTN shot a day after the attack shows fragments of musical instruments, pots and pans and brightly colored beddings used for celebrations, scattered around the bombed out tent.

An Associated Press reporter and photographer, who interviewed more than a dozen survivors a day after the bombing, were able to identify many of them on the wedding party video — which runs for several hours.

APTN also traveled Thursday to the village of Mogr el-Deeb, 250 miles west of Ramadi, to film what the survivors said was the wedding site. A devastated building and remnants of the tent, pots and pans could be seen, along with bits of what appeared to be the remnants of ordnance, one of which bore the marking "ATU-35," similar to those on U.S. bombs.

A water tanker truck can be seen in both the video shot by APTN and the wedding tape obtained from a cousin of the groom.

The survivors agree that the wedding festivities had broken up for the night when the attack began, but they insist that there were no foreign fighters or other combatants in their group.

The video shows the bride arriving in a white pickup truck and quickly being ushered into a house by a group of women. Outside, men recline on brightly colored silk pillows, relaxing on the carpeted floor of a large goat-hair tent as boys dance to tribal songs.

The singing and dancing seems to go on forever at the all-male tent set up in the garden of the host, Rikad Nayef, for the wedding of his son, Azhad, and the bride Rutbah Sabah. The men later move to the porch when darkness falls, apparently taking advantage of the cool night weather. Children, mainly boys, sit on their fathers' laps; men smoke an Arab water pipe, finger worry beads and chat with one another. It looks like a typical, gender-segregated tribal desert wedding.

As expected, women are out of sight — but according to survivors, they danced to the music of Hussein al-Ali, a popular Baghdad wedding singer hired for the festivities. Al-Ali was buried in Baghdad on Thursday.

Prominently displayed on the videotape was a stocky man with close-cropped hair playing an electric organ. Another tape, filmed a day later in Ramadi and obtained by APTN, showed the musician lying dead in a burial shroud — his face clearly visible and wearing the same tan shirt as he wore when he performed.

As the musicians played, young men milled about, most dressed in traditional white robes. Young men swayed in tribal dances to the monotonous tones of traditional Arabic music. Two children — a boy and a girl — held hands, dancing and smiling. Women are rarely filmed at such occasions, and they appear only in distant glimpses.

Kimmitt again denied finding evidence that any children died in the raid.

"We had a ground force element that went through the objective. It did not identify any children killed," he said Monday.

However, an AP reporter obtained names of at least 10 children who relatives said had died. Bodies of five of them were filmed by APTN when the survivors took them to Ramadi for burial Wednesday. Iraqi officials said at least 13 children were killed. Mourners say the bride and groom were killed.

Four days after the attack, the memories of the survivors remain painful — as are their injuries.

Haleema Shihab, 32, one of the three wives of Rikad Nayef, said that as the first bombs fell, she grabbed her 7-month-old son, Yousef, and clutching the hands of her 5-year-old son, Hamza, started running. Her 15-year-old son, Ali, sprinted alongside her. They managed to run for several yards when she fell — her leg fractured.

"Hamza was yelling, 'mommy,'" Shihab, recalled. "Ali said he was hurt and that he was bleeding. That's the last time I heard him." Then another shell fell and injured Shihab's left arm.

"Hamza fell from my hand and was gone. Only Yousef stayed in my arms. Ali had been hit and was killed. I couldn't go back," she said from her hospital bed in Ramadi. Her arm was in a cast.

She and her stepdaughter, Iqbal — who had caught up with her — hid in a bomb crater. "We were bleeding from 3 a.m. until sunrise," Shihab said.

Soon American soldiers came. One of them kicked her to see if she was alive, she said.

"I pretended I was dead so he wouldn't kill me," said Shihab. She said the soldier was laughing. When Yousef cried, the soldier said: '"No, stop," said Shihab.

Fourteen-year-old Moza, Shihab's stepdaughter, lies on another bed of the hospital room. She was hurt in the leg and cries. Her relatives haven't told her yet that her mother, Sumaya, is dead.

"I fear she's dead," Moza said of her mother. "I'm worried about her."

Moza was sleeping on one side of the porch next to her sisters Siham, Subha and Zohra while her mother slept on the other end. There were many others on the porch, her cousins, stepmothers and other female relatives.

When the first shell fell, Moza and her sisters, Subha, Fatima and Siham ran off together. Moza was holding Subha's hand.

"I don't know where Fatima and my mom were. Siham got hit. She died. I saw Zohra's head gone. I lost consciousness," said Moza, covering her mouth with the end of her headscarf.

Her sister Iqbal, lay in pain on the bed next to her. Her other sister, Subha, was on the upper floor of the hospital, in the same room with 2-year-old Khoolood. Her small body was bandaged and a tube inserted in her side drained her liver.

Her ankle was bandaged. A red ribbon was tied to her curly hair. Only she and her older brother, Faisal, survived from their immediate family. Her parents and four sisters and brothers were all killed.

In all, 27 members of Rikad Nayef's extended family died — most of them children and women, the family said.

USA Today
Video of Wedding Attack Shows Survivors Sifting Through Debris
Associated Press
May 22, 2004
5/21/2004 4:25 PM

BAGHDAD (AP) — Fragments of musical instruments, tufts of women's hair, and a large blood stain are among the scenes in Associated Press Television News film of a destroyed house that survivors say U.S. planes bombed during a wedding party. It is the first known footage of the aftermath of Wednesday's attack, which killed up to 45 people, mostly women and children from the Bou Fahad tribe in Mogr el-Deeb, a desert village on the Syrian border. (Related video: Survivors dig through the rubble)

The U.S. military has said the target was a suspected safehouse for foreign fighters from Syria and denied Friday that children were killed in the airstrikes.

Brig. Gen. Mark Kimmitt told reporters in Baghdad that U.S. troops who reported back from the operation "told us they did not shoot women and children."

"There were a number of woman, a handful of women, I think the number was four to six, caught up in the engagement. They may have died from some of the fire that came from the aircraft," Kimmitt said.

But an Associated Press reporter in the Ramadi area, at least 275 miles east of Mogr el-Deeb, was able to identify at least 10 of the bodies as those of children.

At the Bou Fahad cemetery outside Ramadi, where the tribe is based, each of the 28 fresh graves contain one to three corpses, mostly of mothers and their young children.

Relatives said they include those of 2-year-old Kholood and 1-year-old Anoud, daughters of Amal Rikad, who was killed; of 2-year-old Raad and 1-year-old Ra'ed — whose headless body was found near his house — sons of Fatima Madhi, who was killed; of Saad, 10, Faisal, 7, Anoud, 6, Fasila, 5, Kholood, 4, and Inad, 3 — children of Mohammed and Morifa Rikad, who were killed.

There also are photo images of dead children, but it was not possible to determine if those victims were already accounted for by relatives.

Bou Fahad tribesmen denied there were foreign fighters among their community. They consider the desolate border area part of their territory and follow their goats, sheep and cattle there to graze. In the springtime they leave spacious homes in Ramadi, the capital of Anbar province, and roam the desert.

Smuggling livestock into Syria is also part of a herdsman's life, although no one in the tribe acknowledged that.

Weddings are often marked in Iraq with celebratory gunfire, but survivors insisted no weapons were fired Wednesday — despite speculation by Iraqi officials that this drew a mistaken American attack.

The first bomb hit the huge goat-hair tent — where male guests were said to be sleeping — at about 2:45 a.m. Wednesday. The barrage didn't stop until sunrise, witnesses said. Women and children were in an adjacent one-story house and the men went to their nearby homes, they said.

After the first missile, Hamdan Khalaf ran in panic and hid in a grassy area.

"In the morning, we went back to the hill and saw people torn apart, attacked by the plane," Khalaf, who was not wounded, told APTN Thursday.

"We pulled them out of here," another man told APTN, standing on a pile of stones as he picked up a stained green cloth that looked like part of a young man's shirt. A severed arm lay in the rubble. "We took them to hospital — straight to the fridge," the unidentified man said.

An angry voice in the background of the tape denounced President Bush. "This is his terrorism," the voice said.

The body of what survivors said was the wedding's cameraman was pulled out of the debris Thursday.

The footage also showed women in colorful clothes sifting through the wreckage and carrying away blankets and other goods. Pieces of rockets and bullet casings were strewn across the sandy plain, as were pots and pans and a satellite dish. Partly charred pickup trucks and a water tanker stood in the desert.

The attack left few survivors. About a dozen wounded were taken to the town of Qaem, about 140 miles northwest of Ramadi and 130 miles north of Mogr el-Deeb.

Witnesses, interviewed Thursday by AP in Ramadi, said revelers at the wedding party began worrying when they heard aircraft overhead at about 9 p.m. Tuesday. Then came military vehicles, which stopped about two miles away from the village and switched off their headlights. The planes were still overhead at 11 p.m, so the hosts told the band to stop playing and everyone went to bed.

About four hours later, airstrikes began and continued until dawn when two helicopters landed and about 40 soldiers searched the house where the women had stayed and a second, vacant house. Soon after, the two houses were blown up. Some witnesses said the houses were attacked by helicopters; others said Americans detonated them with explosives.

Kimmitt confirmed that the operation was an air and ground assault. "Those people on the ground identified no children as part of that location that were killed," he said, adding that they reported only adult deaths.

He also referred to the APTN video and separate APTN footage from Wednesday in Ramadi that showed a headless body of a child and other bodies of children.

"What we saw in those APTN videos were substantially inconsistent with the reports we received from the unit that conducted the operation," Kimmit said. "We're now trying to figure out why there's an inconsistency.

"We're keeping an open mind as to exactly what happened on the ground. That's why we're continuing to try to gather all the facts; that's why we're not ruling out anything based on information coming forward," he added.